| friends | av archive | bairnrhymes | bookcases | buses | calendar | grave | lectures |
| makars | music | panels | prize | roll | schools | sculpture | shows | the arch | theatre |
| walks |
Makars' Court
Unveiling Ceremony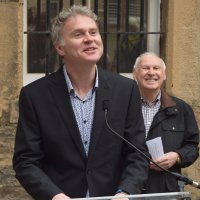 Richard Lewis
This was held in Makars' Court (accessed via Lady Stair's Close in the Lawnmarket), Edinburgh, on Friday 28th April 2017 (Soutar's birthday). The opening address was given by Councillor Richard Lewis, Convener for Culture and Sport, City of Edinburgh Council, who welcomed visitors and attendees, and praised the work of the staff who administered Makars' Court and the Writers' Museum. Richard read a short biography of William Soutar.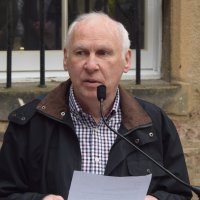 Iain Mackintosh
Iain Mackintosh, Chairman of the Friends, responded by thanking Edinburgh for giving permission to lay a Soutar flagstone, and praised Gillian Findlay and her colleagues in the Culture office for organising the stonemason (David Lindsay), plus administering and hosting the ceremony. Iain also paid tribute to Christine Davis, daughter of Bill Aitken (who edited two collections of Soutar's works) and a staunch Friend, for providing the motive force for the project. Sadly, Christine didn't live to see the flagstone unveiled, but her husband Robin and their family were present. Iain described the work of the Friends, who would soon be celebrating their 10th anniversary in May.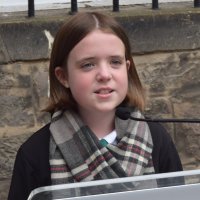 Leah Menzies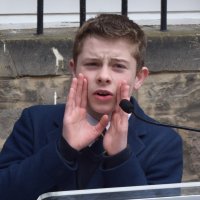 Morgan Patterson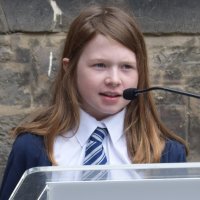 Charlotte Roach
Three Perthshire schoolchildren then recited Soutar Bairnrhymes:
Leah Menzies, Moncreiffe Primary School, co-winner of the 2016 Bairnrhymes competition, recited The Wind.
Morgan Patterson, Strathallan School, winner of the Soutar Unicorn at the 2017 Perth Burns Club Schools' Festival, performed An Alphabet for Caledonian Bairns.
Charlotte Roach, Viewlands Primary School, co-winner of the 2016 Bairnrhymes competition, recited Bawsy Broon.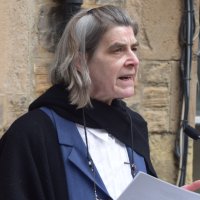 Dr Joy Hendry
Jim Carruthers
Dr Joy Hendry, editor of Chapman, who had delivered the Annual Soutar Lecture the previous evening in Perth, gave an appreciation of Soutar as diarist, poet and man. Joy read extracts from prose and poems and praised Soutar's resolve to overcome his illness and frustrations in order to be "of some little service" to his readership.
Jim Carruthers, Treasurer of the Friends, read Ballad (the poem from which the engraved flagstone quote is taken).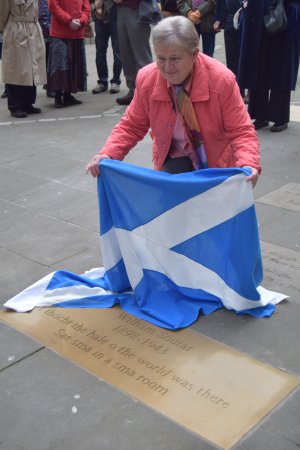 Janette Soutar
Janette Soutar, the poet's cousin, performed the unveiling ceremony, assisted by Richard Lewis, lifting the Saltire which had previously covered the flagstone. Janette said that she felt privileged to be asked to perform this task, and commended the Friends for all their work since inception.
Iain Mackintosh brought proceedings to a close by reading Autobiography and the 30 attendees decamped to the adjacent Writers' Museum for refreshments. The weather had been cool and cloudy though thankfully dry, and the sun emerged at the close as though giving a wink.
Press Coverage
BBC
21 Apr 17 News Website
06 May 17 Good Morning Scotland April 29 (Radio)
Scots Language Centre
08 May 17 SLC Website
Scottish Television News (by kind permission)

The National
04 May 17 National Website
The Courier
05 May 17 Perth & Kinross News
Perthshire Advertiser
05 May 17 Edition
Picture Gallery
Click on a thumbnail to see a larger image. Use the Back button to return.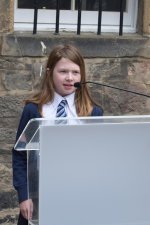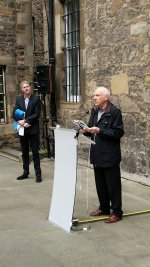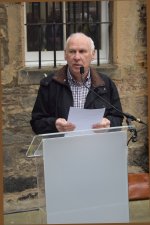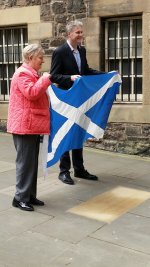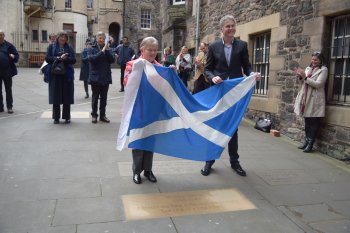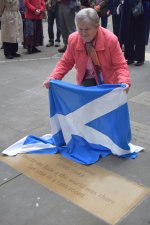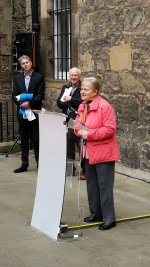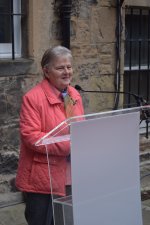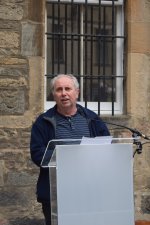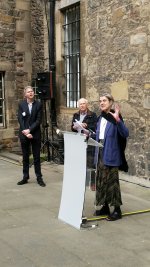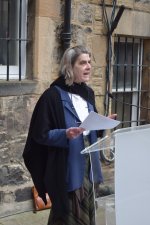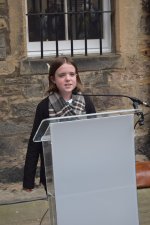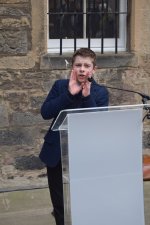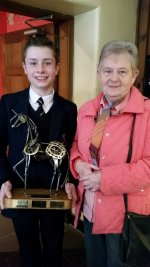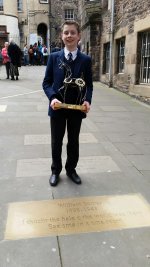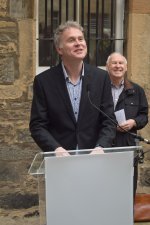 Many thanks to Elliott Boyle and Irene McFarlane for the photographs!